Harley Quinn/Batman Arcade with3,500 Games! DC Comics Marvel Star Wars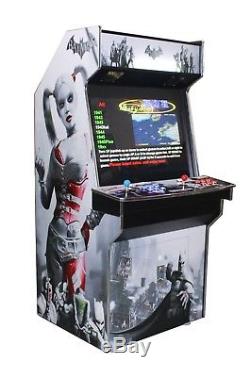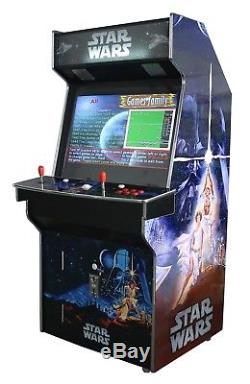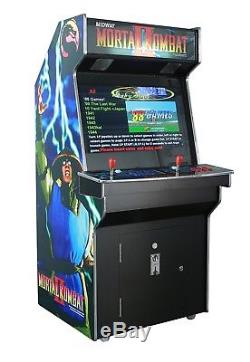 LIMITED EDITION Soon to sell out! We now have Star Wars and Mortal Combat II versions! 2-player arcade game with 3,500 games! Fully-licensed games such as 3D Street Fighter, 3D Tekkan, 3D-Tetris, 3D Psychic Force, 3D Raystorm, 3D Star Sweep, 3D Star Gladiator, 3D Dead or Alive, 3D Aliens, Aero Fighters, Alpine Racer, Aerofighters, Airwolf, Alpine Ski, Altered Beast, American Horseshoes, American Speedway, Apache, Arabian Fight, Arch Rivals, Arkanoid, Armored Warriors, Art of Fighting, Astra SuperStars, Asura Blade, Atari Baseball, Atari Football, Atari Soccer, Avengers in Galactic Storm, Avengers (US set 1), Avenging Spirit, Bad Dudes vs.
Dragonninja, Baseball, Bang Bang, Batman, Batman Part 2 , Basketball, Battle Circuit, Battle Garegga, Battle Shark, Battle of Atlantis, Beach Festival World Championship, Beast Busters, Beastie Feastie, Beastorizer, Big Event Golf, Big Fight-Big Trouble in the Atlantic Ocean, Billiard, Big Striker, Bionic Commando, Birdie King, Black Widow, Blood Bros. Blood Warrier, Bonze Adventure, Boogie Wings, Born to Fight, Bowl-O-Rama, Bouncing Balls, Bubble Bobble, Buck Rogers, Bull Fight, Burning Fight, Cadash, Candy Candy, Capcom, Captain America, Carnival, Castlevania, Catch -22, Champion Boxing, Champion Golf, Champion Baseball, Champion Wrestler, Championship Bowling, Cheeky Mouse, Chicken Farm, Cheller, Circus Charlie, City Bomber, Cleopatra Futune, Columns, Cookie and Bibi, Cosmic Avenger, Cops n Robbers, Crazy Kong, Crime Fighters, Crypt Killer, Dark Stalkers, Discs of Tron, DJ Boy, Donkey Kong, Double Dragon, Dragon Bowl, Dungeons and Dragons (many versions), Egg Hunt, Elevator Action, Escape from the Planet of the Robot Monsters, Exciting Soccer, F-1 Grand Prix, Fancy World! Fantasy Land, Fatal Fury, Final Blow, Fire Hawk, Fred Flinstones Memory Match, Food Fight, Fantasy Football, Funky Fish, Funny Mouth, Galactic Warriors, Galasy War, Gals Panic, Garou-Mark of the Wolves, Gauntlet, Ghost Hunter, Ghostmuncher Galaxian, Ghost'n Goblins, Gimme A Break, Gladiator, Golden Tee (many games), Golfing Greats, Great Sluggers, Gun Dealer, Gun Bird, Gun and Frontier, Gulf War, Guerilla War, Gun Master, Gun Smoke, Gunbird, Gunforce, Guts'n Glory, Hat Trick, Haunted Castle, Heavyweight Chap, Helifire, Hero of Doom, High Imact Football, Hunchback, Indiana Jones and the Temple of Doom, In the Hunt, Jack the Giankiller, Jackie Chan, JoJo's Bizarre Adventure, Jr. Pac-Manm Jurassic Park, Kangaroo, Knights of Round, Knights of Valour, Knuckle Heads, Knuckle Bash, Los Vegas, Legend of Heroes, Leprechaun, Lethal Weapon, Lode Runner, Magic Johnson's Fast Break, Macho Mouse, Lost Worlds, Marvel Super Heros (Euro 951024, 951024, & US951024), Marvel Super Heroes vs. Street Fighter (Japan 970707) Marvel Super Heroes vs. Stre3t Fighter US 970827, Marvel vs. Capcom: Clash of Super Heroes (Euro 980123), Marvel vs.
Capcom: Clash of Super Heroes (US 980123), Michael Jackson's Moonwalker, Midnight Landing (Germany), Missing in Action, Mission 660, Monster Bash, Monte Carlo, Moon Cresta, Mortal Kombat (many games), Mouse Attack, Ms. Pac-Man Champion Edition/Super Zola Pac Gal, Ms. Pac-Man, Multi Champ, Namco Classic Collections, NBA Jam, Nightmare in the Dark, Oriental Legen, Out Run, Peter Pan, Porky, Power Instinct, Puck Man, Puzzle & Action, Puzzle Bobble, Raiden Fighters, Robocop, Saturday Night Slam Masters, Sea Wolf, Sega Rally Championship, SegaSonic The Hedgehog, Shanghai, SNK vs. Sonic the Hedgehog, Space Invaders (many versions), Spider-Man (World), Spider-Man: The Video Game, Stakes Winner, Street Figher (many versions), Sunset Riders, Super Burger Time, Super Mario Bros. Super World Stadium, Superman , Teenage Mutant Ninja Turtles (many versions), The King of Fighters (many versions), The Three Stooges In Brides Is Brides, The Simpsons (many versions), The Empire Strikes Back, The FairyLand Story, Turkey Hunting, Vampire Hunter, Vampire Savior, Wizard of War, WWF Wrestlemania, X-Men (many versions), etc.
OK, I'm tired of typing. There are 3,500 bloody games! I have 67 legal-sized pages of games and I can't type them all on here! Message me if you are looking for a certain game. See our product videos on our. Page We Just Sell Fun! Note: This arcade machine takes about 2 weeks to be built. The item "Harley Quinn/Batman Arcade with3,500 Games! DC Comics Marvel Star Wars" is in sale since Saturday, August 4, 2018.
This item is in the category "Collectibles\Arcade, Jukeboxes & Pinball\Arcade Gaming\Video Arcade Machines". The seller is "blondeeliz" and is located in Ellicott City, Maryland. This item can be shipped to United States.