Star Wars EU Expanded Universe Action Figure Lot Battle Pack Comic Evolutions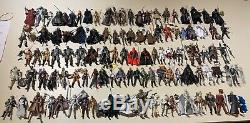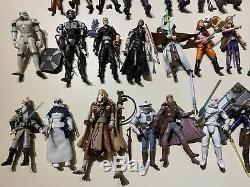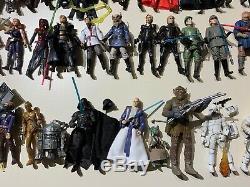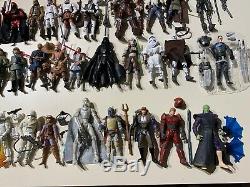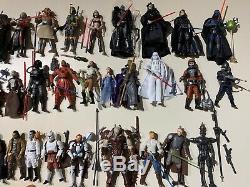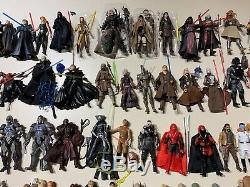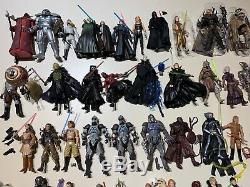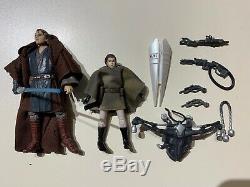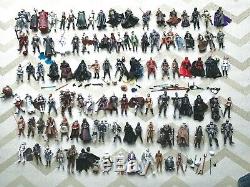 Star Wars Expanded Universe collection lot of 3 3/4 figures by Hasbro. Some very rare, exclusive and priced items. Figures are complete with all accessories as pictured in the first photos. The list from the last. 1-POTF2 EU Dark trooper (darktrooper).
2- POTF2 EU Princess Leia. 4-POTF2 EU Space trooper (spacetrooper).
5- POTF2 EU Mara Jade. 7-POTF2 EU Clone emperor Palpatine. 8-POTF2 EU Grand Admiral Thrawn. 9- POTF2 EU Luke Skywalker.
10-Darth Bane (sith legacy Evolutions 3-pack). 11-Luke Skywalker (Dark Empire ll Comic pack). 13-Anakin Skywalker (Comic pack) Republic. 16-Baron Soontir Fel (Comic pack) Rogue Squadron.
17-Bultar Swan (Comic pack) Purge. 18- Prince Xizor (Comic pack) SOTE (later). 19- Luke Skywalker POTF2 SOTE. 20- Dash Rendar POTF2 SOTE. 21- Prince Xizor POTF2 SOTE.
22-White Darth Vader (Comic pack) Infinities. 23-Galen Marek Vader Secret apprentice (Legacy Evolutions 3-pack). 24-Jedi Knight (Legacy Evolutions 3-pack) Force Unleashed. (Comic pack) Heir to the Empire.
26-Darth Maul Sith Attack droid (included). 31-Sith Lord (Legacy Evolutions Sith 3-pack) Force Unleashed. 43-Darth Nihilus (Legacy Sith Evolution 3-pack). 44-Mandalore (Legacy Fett Evolutions 3-pack).
59-Obi-Wan Kenobi (Jedi General) Legacy BD9. 62-Saesse Tiin General (Legacy collection).
64-Han Solo Concept Ralph Mcquarrie 30th anniversary collection. Rahm Kota (30th anniversary collection). 70-IG Lancer Droid (Legacy BD13). 71-Anakin Skywalker (Concept Art) Legacy BD48.
73-Darth Malgus (Vintage Collection VC96). 75- Jaina Solo (Legacy Collection BD60). 76- Jacen Solo (Legacy Collection BD59).
80-Darth Malak (30th anniversary collection) #35. 82-Star Killer (Galen Marek) The Vintage Collection VC100. 84-Shadow Black Royal Guard (30th anniversary collection).
85-Bane Malar (Legacy collection BD7). 86-Bastila Shan (The Vintage collection VC69). 92- Ralph Mcquarrie concept Stormtrooper. 93- Ralph Mcquarrie concept Luke Skywalker. 94- Ralph Mcquarrie concept Rebel Trooper.
95- Boba Fett (animated debut) 30th anniversary collection #24. 96- Ralph Mcquarrie concept Chewbacca. 97- Ralph Mcquarrie concept Darth Vader.
98- Ralph Mcquarrie concept Yoda. 99- Ralph Mcquarrie concept Snowtrooper. 100- Ralph Mcquarrie concept Boba Fett.
Ralph Mcquarrie concept Ben Obi-wan Kenobi. 102- Ralph Mcquarrie concept Grievous. 103- Ralph Mcquarrie concept C-3PO. 106-Anakin Skywalker (from Comic Pack with Durge). 107-Princess Leia (Comic Pack) Infinities. Sith Attack Training Droid (POTJ set with Darth Maul).
Please look at the pictures for condition and details. What you see is what you'll get. Some were briefly displayed, then stayed in storage most of the time in a non smoking, pet free environment. Please check my other items.
The item "Star Wars EU Expanded Universe Action Figure Lot Battle Pack Comic Evolutions" is in sale since Wednesday, January 1, 2020. This item is in the category "Toys & Hobbies\Action Figures\TV, Movie & Video Games". The seller is "tambors" and is located in Allston, Massachusetts. This item can be shipped worldwide.
Character: Expanded Universe
Modified Item: No
Country/Region of Manufacture: China
Material: Plastic
Scale: 1:18
Type: Action Figure Collection
Year: 1998- now
Character Family: Star Wars Expanded Universe
Packaging: Without Packaging
Brand: Hasbro
Era: 1998-now