Star Wars #3 1st Printing CGC 9.8 1977 4237915003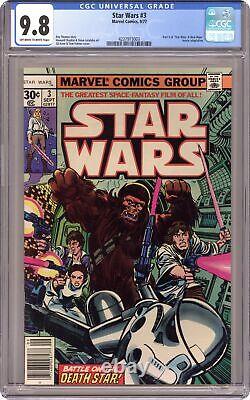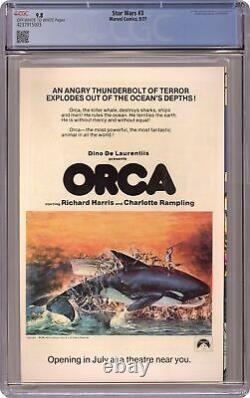 Key Comics & First Appearances. Star Wars #3 1st Printing CGC 9.8 1977 4237915003. Any CGC case may have minor imperfections including Newton rings, scuffs, standard surface wear, or minor cracks. CGC considers these defects acceptable, as do we. If there is any significant damage to the slab it will be noted in our description, and we will not list any slabbed comics with a damaged case that compromises the integrity of the grade.
1st printing, standard 30 Cent Newsstand Edition with UPC. A New Hope: Part 3 of 6. Based on the screenplay by George Lucas. Art by Howard Chaykin and Steve Leialoha.
The evil Galactic Empire tests its ultimate weapon on Princess Leia's homeworld with devastating results. Meanwhile, Ben Kenobi begins Luke Skywalker's training in the ways of the force. However things take a turn for the worse when the Millennium Falcon is captured within the unrelenting grasp of the Death Star's tractor-beam.
Now, it's up to this small motley band of heroes to mount a daring rescue attempt of the Princess from within the very bowels of the Empire's most powerful weapon. This item is a consignment. This item is a consignment, which means that the price has been set by the consignor rather than by MyComicShop. We take pride in our accurate, consistent grading.
You can be confident in receiving a well-graded comic when ordering from us. We understand that condition is important to collectors.
Orders are processed each weekday morning, so be sure to submit all orders quickly if you want us to combine them.