Star Wars By Gillen & Pak Omnibus DM Only 10/25/23 Presale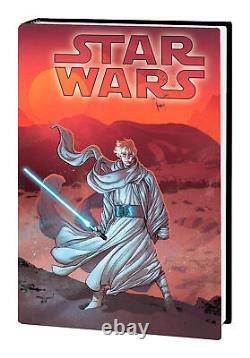 GRADING: Grading if provided is strictly my opinion, I tend to grade conservatively. Additional pictures are provided upon request. UNREAD, NEAR MINT MINUS NM- or better. The first chapter of Star Wars' return to Marvel concludes, as Kieron Gillen and Greg Pak's blockbuster runs are collected in one volume! Jedha was left in ruins when the Holy City was annihilated - now, as Queen Trios' forces move in to strip what's left, the rebels struggle to preserve the planet for its survivors! Leia and her allies seek to strengthen their forces, but can they liberate the water planet of Mon Cala? Or will all hope be lost at the hands of Darth Vader? With the Empire resurgent and Vader on a ruthless hunt for Luke Skywalker, our heroes go on the run - but is romance in the air?
And can the beleaguered rebels find safe haven in the icy wastelands of Hoth? Collecting STAR WARS (2015) #38-75, STAR WARS ANNUAL (2016) #4 and STAR WARS: EMPIRE ASCENDANT. FINAL ART/DATE MAY VARY, COVERS ARE NOT VIRGINS UNLESS NOTED.
RELEASE DATES ARE SUBJECT TO CHANGE, OUR TITLES ARE NOT CONTINUOUSLY UPDATED. PLEASE CHECK PREVIEWSWORLD'S SITE FOR ALL NON-DC BOOKS.
FOR DC BOOKS PLEASE CHECK LUNAR DISTRIBUTION'S SITE. Please check previewsworld's site for all non-DC books. For DC books, please check Lunar Distribution's site. Comes with bags and boards. All items are packaged in Gemini mailers with DO NOT BEND stickers.
The item in the title is EXACTLY what you'll receive barring publisher changes.