Star Wars Legends The New Republic Omnibus Vol. 2 3/17/23 Presale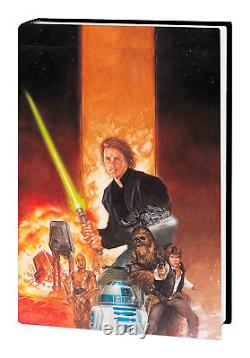 GRADING: Grading if provided is strictly my opinion, I tend to grade conservatively. Additional pictures are provided upon request.
UNREAD, NEAR MINT MINUS NM- or better. The Thrawn Trilogy and the Dark Empire Trilogy - together!
Will the combined might of Luke, Leia, Han, and new allies Mara Jade and Talon Karrde be enough to stop Thrawn? Either way, the remnants of the Empire are gunning for them - including a mysteriously resurrected Emperor Palpatine! Luke will face his greatest test as he braves the dark side of the Force, but can he remain a hero in the process? Plus: The return of Boba Fett and more! Collecting STAR WARS: THE JABBA TAPE; STAR WARS: HEIR TO THE EMPIRE #1-6; STAR WARS: DARK FORCE RISING #1-6; STAR WARS: THE LAST COMMAND #1-6; STAR WARS: DARK EMPIRE #1-6; STAR WARS: DARK EMPIRE II #1-6; STAR WARS: EMPIRE'S END #1-2; STAR WARS: BOBA FETT - TWIN ENGINES OF DESTRUCTION, BOUNTY ON BAR-KOODA, WHEN THE FAT LADY SWINGS, MURDER MOST FOUL and AGENT OF DOOM; STAR WARS HANDBOOK #3; and material from STAR WARS TALES #1, #3-5, #10, #14, #20 and #22.
Comes with bags and boards. All items are packaged in Gemini mailers with DO NOT BEND stamped on both front and back. The item in the title is EXACTLY what you'll receive.