Starlord 1-22 UK Sci-Fi magazine 1978 Strontium Dog Star Wars 2000 AD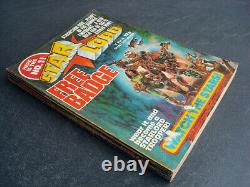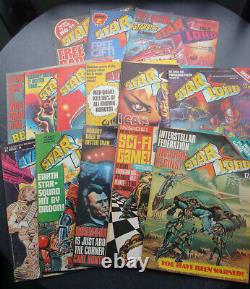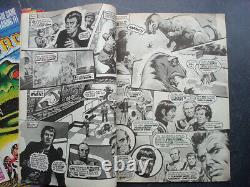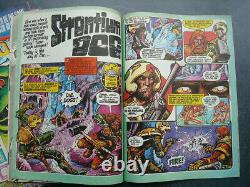 IPC Magazines London, May-Oct 1978. #1 (13 May 78) #2 (20 May 78) #3 (27 May 78) #4 (3 June 78) #6 (17 June 78) #14 (12 Aug 78) #15 (19 Aug 78) #16 (26 Aug 78) #17 (2 Sept 78) #18 (9 Sept 78) #19 (16 Sept 78) #20 (23 Sept 78) #21 (30 Sept 78) #22 (7 Oct 78) Issues 5, 7-13 are missing in this collection. Very good condition, some books look almost unread.
#1 however has a sticker residue on the front cover due to the missing badge supplement. Starlord was a weekly British science fiction comic book magazine published by IPC in 1978 as a sister title to 2000 AD, which had been launched the previous year in anticipation of a science fiction boom surrounding Star Wars. Starlord was planned for older readers, with longer stories and higher production values than 2000 AD and the rest of the IPC boys' comics stable, but this proved too ambitious. Episodes were shortened, the number of colour pages was reduced, although the better quality paper and printing were retained, and Starlord was published weekly at a higher cover price than 2000 AD.
IPC found that publishing two science fiction titles split the market. However, group editor John Sanders preferred 2000 AD and so he decided to end Starlord instead. Starlord was cancelled after 22 issues and merged with 2000 AD in issue 86 of that title. Its last issue was dated 7 October 1978. Sales of 2000 AD steadily increased. Stories included: Strontium Dog, a series about a mutant bounty hunter created by writer John Wagner and artist Carlos Ezquerra. Ro-Busters, a robot disaster squad created by writer Pat Mills and artist Kevin O'Neill, although it was more usually drawn by Carlos Pino or Dave Gibbons. Mind Wars, a series about two psychic teenagers in the middle of a galactic war, written by Alan Hebden and drawn by Jesus Redondo Timequake, featuring a tramp steamer skipper reluctantly recruited into Time Control, an agency which fought to prevent anyone tampering with time. Planet of the Damned, a passenger jet vanishes in the Bermuda Triangle and the passengers find themselves on a hostile alien world. Written by Pat Mills (as RE Wright). Holocaust, Carl Hunter, a private detective, discovers a government cover-up of an alien invasion.
The item "Starlord 1-22 UK Sci-Fi magazine 1978 Strontium Dog Star Wars 2000 AD" is in sale since Saturday, April 3, 2021. This item is in the category "Sammeln & Seltenes\Comics & Comic-Fanartikel\Europäische & Frankobelgische Comics\Comics & Graphic Novels". The seller is "comicfreundmax" and is located in München. This item can be shipped worldwide.
Jahr: 1978
Charakter: Strontium Dog
Comic-Tradition: British
Altersempfehlung: Erwachsene
Format: Heftbindung
Eigenschaften: Erstausgabe
Produktart: Comic
Serie: Starlord
Genre: Science-Fiction
Herstellungsland und -region: Großbritannien
Sprache: Englisch